Disk Box and Instruments
Disk Box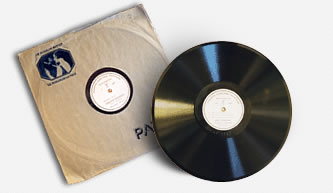 a. Melpo Merlie' s Archive
It was put together in 1930-1931 on the initiative of Melpo Merlie. Within a few months, 222 78-rpm records were issued (in a minimal number of copies for the specific use of scholars), comprising approximately 600 demotic songs from the totality of Greece (including the then Italian-occupied Dodecanese islands), several pieces of Byzantine chant, Venizelos singing Cretan rizitica, poet Palamas reciting his own poetry as well as examples of various local dialects such as Pontic or Tzakonic.
b. Other Recordings
A rich collection of commercially produced albums of demotic and neo-Byzantine music and of rebetica. Also, traditional music records from all over the world.
Instruments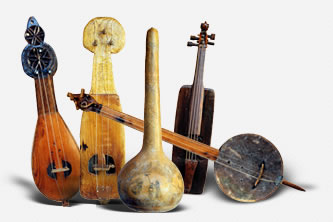 Musical instruments that were being played by folk musicians at the turn of the 20th century. Distinguish a rabab from Aetolia, a cappadocian kemane and a cypriote koloka (a gourd made into a percussion instrument, in the style of South-American maracas), decorated with five Old-Testament-inspired miniatures by folk painter C. Ch. Ttamboulas from Lyssi, Cyprus.